Europe's oil capital is a victim of the sharp drop in oil prices since last year. More than 1,000 oil workers have been laid off since the downturn began
.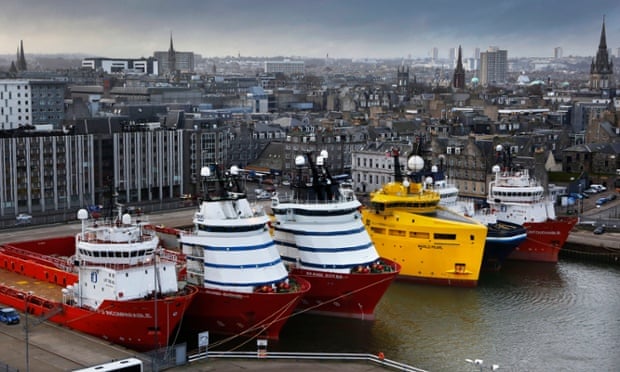 More than 1,000 oil workers have been laid off in Aberdeen since the downturn began last year. Above, the Edda Ferd platform supply shipping vessel sits docked in Aberdeen Harbour in 2013. PHOTO: SIMON DAWSON/BLOOMBERG NEWS
ABERDEEN, Scotland — When he was laid off in December, Sean Murphy thought he would easily find a new job with his 30 years of experience as a supervisor on oil rigs all over Europe's North Sea. Five months and more than 200 résumés later, Mr. Murphy has lost confidence.
So, too, has this once-buoyant city. Often called Europe's energy capital for the high number of oil-and-gas firms operating here, Aberdeen is a victim of the sharp drop in oil prices since last year.
More than 1,000 oil workers have been laid off in the region since the downturn began last year. Local businesses, from taxi cabs to hotels and restaurants, report fewer customers and fear worse is to come. The property market, once one of Britain's hottest, has reversed direction.
"It's like waiting for a tsunami: You can see the wave coming and prepare somewhat, but it's ultimately going to hit you," said Colin Welsh, chief executive of Simmons & Co. International Ltd., an energy-focused investment bank based in Aberdeen.
Across the globe, from Houston to Stavanger in Norway and Perth in Australia, oil cities are nursing their wounds. In the U.S., energy companies, including Halliburton Co. and Baker Hughes Inc., have said they would cut tens of thousands of jobs, many likely in Houston.
In Rogaland, Norway's southernmost fiord county and home of the country's oil capital of Stavanger, the unemployment rate hit 3% in March—tiny by most standards but up from 2.1% a year earlier.
Perth, where about 85,000 work in energy, will see employment growth halve in the coming years and rents fall, says DTZ Research, a consulting firm.
In Aberdeen, Mr. Murphy, a burly, speed-talking Scotsman, went from earning £520 ($819) a week on a rig to £60 on unemployment benefits.
"It's quite an adjustment," Mr. Murphy said, sipping a pint of Guinness in the Regent Bridge pub, a watering hole near the harbor, where half a dozen oil-cargo ships, some the size of three-story buildings, are docked.
While oil prices have rebounded somewhat in recent weeks, they are still down more than 40% since last June. Brent, the global benchmark, is trading around $67 a barrel, down from a high of $115.
But Aberdeen has something else to worry about: Oil in the North Sea is running out. Production has been declining since 1999, and while experts estimate that it still has billions of barrels of oil, sucking them out of the seabed is getting costlier.
The International Monetary Fund estimates that U.K. producers have the highest operating costs in the world, at around $40 a barrel. Costs in Saudi Arabia and Kuwait are around $5 a barrel, the IMF says. It calls the North Sea the world's hardest-hit oil region.
Aberdeen is at the center. It is a city of some 200,000 people, of whom more than 40,000 work in the oil-and-gas industry. More than 900 energy companies are based in the area.
The local chamber of commerce says more than 1,400 job cuts have been announced so far. BP PLC said in January that it would lay off about 300 people in Aberdeen.