The conservative prime ministers of Australia and Canada have agreed to form an alliance to push back on the climate policies championed by President Obama.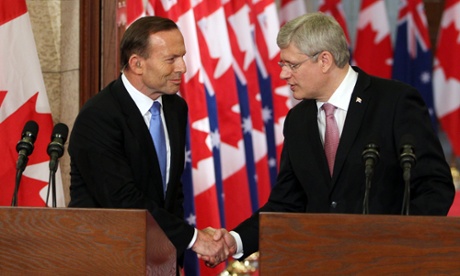 Canadian Prime Minister Stephen Harper and Australian Prime Minister Tony Abbott both promised on Monday not to enact climate policies that would harm their national economies. Both leaders welcomed Obama's most recent plan to reduce carbon dioxide emissions from existing power plants 30 percent by 2030.
But Abbott and Harper said they would not implement climate policies which they deem "unwise," reports the Ottawa Citizen. Harper stressed that no country should impose climate rules that "deliberately destroy jobs and growth in their country."
"It's not that we don't seek to deal with climate change," Harper said. "But we seek to deal with it in a way that will protect and enhance our ability to create jobs and growth. Not destroy jobs and growth in our countries."
"We should do what we reasonably can to limit emissions and avoid climate change, man-made climate change," echoed Abbott.
"But we shouldn't clobber the economy," Abbott said. "That's why I've always been against a carbon tax or emissions trading scheme — because it harms our economy without necessarily helping the environment."
Abbott's conservative Liberal-National coalition won a landslide victory in Australia's election last year on a platform of reining in government spending and regulation, including repealing the country's carbon tax.
Harper's government has likewise been opposed to policies that overregulate energy production in Canada, opting not to introduce policies to regulate emissions from the oil and gas industry. Canada already regulates carbon dioxide emissions from power plants.
Abbott and Harper are the first two countries to agree to thwart attempts by President Obama and other world leaders to have global warming be put on the agenda for the G20 meeting this fall in Australia. Abbott hopes to rally other Commonwealth countries, like New Zealand and Britain, to oppose using the G20 to implement climate policies.
Abbott, who chairs the G20, has used the international body to promote free trade by encouraging member states to lowering protectionist trade barriers.
"At the very least, the G20 this year should renew its commitment against protectionism and in favour of freer markets," Abbott said in January. "Each country should renew its resolve to undo any protectionist measures put in place since the crisis."