Trade Minister Simon Birmingham has described France's push to force Australia to adopt climate change targets in a planned trade deal with European Union as "unprecedented", declaring he will only accept terms that are in the best interests of the nation.
Senator Birmingham wants to clinch a free-trade agreement (FTA) with the EU by the end of next year, followed by Britain in early 2021, after Parliament this week ticked off on deals with Indonesia, Hong Kong and Peru.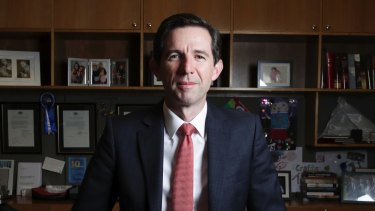 In a week when Australia-China relations soured over allegations of a plot to install a Chinese agent in federal Parliament, Senator Birmingham stressed the benefits of diversifying Australia's trading interests around the world through the new FTAs, but said China would remain a major trading partner with Australia for years to come.
He also declared he wouldn't "capitulate" to Europe's claim for exclusive use of key food names including feta, Parmesan and Gorgonzola cheeses.
Climate change targets are shaping to be a major sticking point in trade negotiations with Europe – already Australia's second-biggest trading partner – after France publicly tied Australia's domestic action on climate change to the proposed FTA.
Ahead of a speech in Sydney on Thursday night to the European Australian Business Council, Senator Birmingham told The Sydney Morning Herald and The Age he believed trade agreements were "overwhelmingly commercial undertakings between countries" and they should "focus on commercial realities".
He said Australia "had a good environmental story to tell" and was happy to discuss any proposed terms with the EU referencing the Paris climate agreement, but would push back on provisions that included sanctions for not meeting climate targets.
"We're completely committed to meeting our [Paris climate] targets and we've always met and exceeded our targets, but I think it would be unprecedented to see those type of provisions proposed in an agreement," Senator Birmingham said.
The Trade Minister said he didn't want to prejudge the negotiations, but Australia would put up a "strong defence" to some of the 172 foods and 236 spirits the EU wants protected under the geographical indication (GI) system.