India's leaders are determined to restore economic growth and lift the country's 1.3 billion citizens out of poverty. But rapid development will require India to double or triple its production of coal – and make it the world's second largest carbon emitter. Is there any alternative?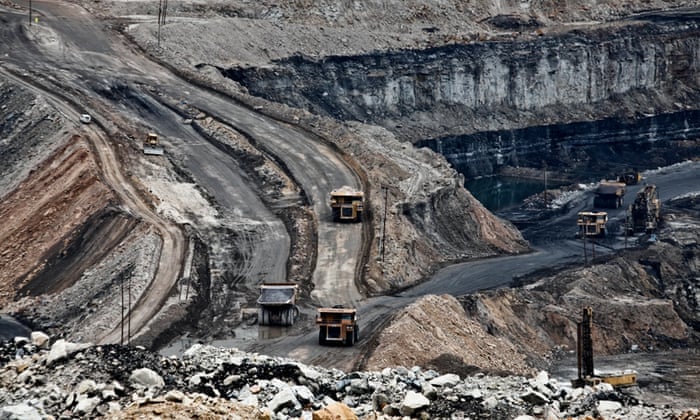 Nigahi coal mine, India's largest open cast mine, operated by NCL (Northern Coalfields Limited) in the Singrauli coalfield. Photograph: Greenpeace/Sudhanshu Malhotra
To many western environmentalists, who are determined to see a binding global deal to reduce greenhouse gas emissions at the UN climate change conference in Paris later this year, India's rising coal use is anathema. However, across a broad range of Delhi politicians and policymakers there is near unanimity. There is, they say, simply no possibility that at this stage in its development India will agree to any form of emissions cap, let alone a cut. Even a pledge of the kind made by China's leader Xi Jinping after talks with US president Barack Obama last year, that Chinese emissions would rise to a peak in 2030 and thereafter decline, would be out of the question.
This issue – the balance between the environment and growth – arises in every developing country. But India's sheer size means that its resolution is of exceptional significance.
Modi has spoken repeatedly of India's "right to growth". Prakash Javadekar, the cabinet minister responsible for the environment, forests and climate change, enlarged on this in blunt terms, speaking in his office at the Rajya Sabha, the upper house of India's parliament: "Our emissions will grow because we are not developed and we have a right, every person on this Earth has a right, to develop. If today the world is 0.8C warmer [than it was in pre-industrial times], it is not my fault. It is the historical responsibility of those who started emitting with the industrial revolution." (However, largely because of its sheer size and population, India is one of the ten biggest historical emitters, having contributed around 7% to the warming the world has seen so far, compared to 20% for the US and 5% for the UK.)
He cited a Hindi political slogan, taken up by the BJP in its struggle to eclipse the once-impregnable Congress Party: "Singhasan khali karo ki janata aati hai," which roughly means "Vacate the throne, the people are coming." In Javadekar's view, for now and for years to come, responsibility for reducing global emissions must be borne by the west: "They must vacate the carbon space because we are coming. We are developing."
Underlying that insistence are some brutal facts. India is famously the world's largest democracy, and is often said to possess the world's biggest "middle class". But in India this term has a meaning very different to its usage in the west. Navroz Dubash, the head of the climate initiative at Delhi's Centre for Policy Research, pointed out that among the richest 10% of Indians, a third live in households which have no refrigerators. In the next richest 10%, only 45% have refrigerators, and in the 10% after that, only 28%. At the mid-point of India's income distribution, the proportion of fridge owners is just 10%.
Dubash, a lead author of the IPCC's reports, is personally in no doubt as to the need to reduce global emissions. But he said that the limited reach of refrigerators – which India's climate would seem to make indispensable – "tells you scary things. If you ask people with that level of access to energy to tighten their belts, that's a very big ask. It means that emissions inevitably have to grow." In India, he added, the number of people who consume as much energy as anyone deemed to be above the official poverty line in the developed world is, at most, a few tens of millions. Everyone else consumes less. "From a global perspective, you have to give India carbon headroom."
Dubash is the principal author of a recent report that examines seven separate projections of India's future energy needs and likely emissions. All of them – from institutions including government departments, the World Bank and TERI, the Energy and Resources Institute headed until recently by Raj Pachauri, the former IPCC chairman – state that both coal-fired power and Indian greenhouse gas emissions are set to increase substantially.
"By 2030, coal use is projected … to be 2.5-three times current levels," the report says. Even with stringent policy action to increase the deployment of renewables and increase energy efficiency, "coal use is projected by all but one study to be more than two times current levels". (Although India has a small nuclear industry – which provides less than 5% of its electricity – attempts to expand it have met strong political resistance. Any new nuclear capacity would take years to build and bring online, so it cannot be expected to fill the country's energy needs any time soon.)
The consequence is that if, as the projections suggest, India's emissions grow between two and three times by 2030, "India could be the second largest global emitter within the next decade." Its projected output – between 4bn and 5.7bn tonnes of carbon dioxide each year – will surpass that of the US, which in 2011 was 5.3bn tonnes and falling, and be smaller only than China's.
India's population is set to outstrip China's by 2028. But while its total emissions will be high, they will be nowhere near as great, on a per capita basis, as those of more developed countries. The Xi–Obama deal was based on the notion that by 2030, the two nations will reach per capita emissions "convergence", with each person responsible for producing 14 tonnes of carbon each year. By that date, Prakash Javadekar said, the figure for the average Indian will be just 4 tonnes, a little over twice as much as today: "India will never reach the Chinese-American convergence point. Every climate action has a cost, but I can't tax my poor." Even in 2030, Indian per capita emissions are expected to remain below the current world average.
Dubash's report regards all the projections as flawed: they tend to assume sustained high GDP growth, which may not be achievable, and there is a wide divergence between them. "We don't have a very solid set of analytical inputs, and the projections are not robust," Dubash said. For that reason alone, "stringent pledges would be unwise, because there is too much uncertainty".
Similar opinions can be found in Delhi among people of very different political stripes. There are a few dissenters, such as Greenpeace India – which led a campaign by local people to resist the development of a new mine in Singrauli that was finally cancelled last year. Since then, the government has taken steps to curb its activities, freezing all its bank accounts on the grounds that it received donations from abroad. But Greenpeace remains on the margins of India's debate.
According to Barun Mitra, the director of the Liberty Institute, a free-market think tank, "in a country where a third of the population doesn't have electricity, binding emissions limits are a fairy tale".
Nitin Desai is a retired UN diplomat, who organised the 1992 Earth Summit in Rio de Janeiro and later represented the UN secretary-general at international climate conferences. He is now a member of a small expert panel advising Modi in the lead-up to Paris. "In a country with blackouts and so many people without access to electricity, can I really manage without developing more coal?" he asked. "Why should we be accountable? The pressure should be on the countries whose per capita emissions are much higher. If you try to force India to adopt emissions targets, you will fail."
The last time US and European leaders made a serious push for a binding global deal, at the 2009 climate conference in Copenhagen, India's delegation was led by Jairam Ramesh, who did Javedekar's job in the then-Congress-led government. As a minister, he was mercilessly attacked for holding up development on environmental grounds. He said: "The idea that India can set targets in Paris is completely ridiculous and unrealistic. It will not happen. This is a difficult concept for eco-fundamentalists, and I say this as a guy who is considered in India to be very green."
Copenhagen, he said, failed because of what he termed "climate evangelism. I was sitting for days with Gordon Brown, Ed Miliband, Angela Merkel, Barack Obama and Sarkozy. It was absolutely bizarre. It failed because of an excess of evangelical zeal, of which Brown was the chief proponent. It should not happen again."
He added: "Even with the most aggressive strategy on nuclear, wind, hydro and solar, coal will still provide 55% of electricity consumption by 2030, which means coal consumption will be 2.5 or three times higher than at present. Mining and burning coal imposes huge environmental burdens. It's a double whammy: the more coal we extract, the more forest we lose, and that too will add to global warming."
Nevertheless, he concluded, "I don't see any alternative other than at least to double India's coal consumption in the next 15 years."