Europe should only push ahead with its planned cuts to carbon emissions if the rest of the world agrees to a global climate change deal at a crunch summit in Paris next year, according to the EU's energy chief.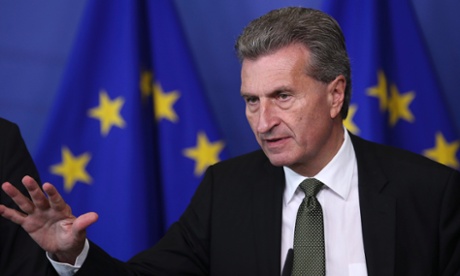 Gunther Oettinger said it 'was really not smart' to cut emissions by 40% if major emitters did not sign binding climate deal. Photograph: Oliver Hoslet/EPA
Next month, EU leaders are expected to sign off on a package of targets for 2030 that will include a 40% cut in Europe' emissions, legally enforceable Europe-wide targets of a 27% market share of renewables, and 30% improvement in energy efficiency.
But Europe only accounts for around 10% of global emissions, and industry leaders have complained bitterly that emissions-cutting obligations will hurt their competitiveness if other regions do not follow suit.
"If there is no binding commitment from countries as India, Russia, Brazil, the US, China, Japan and South Korea, whose governments are responsible for some 70% of global emissions, I think it is not really smart to have a -40% target," the EU's outgoing energy commissioner, Gunther Oettinger, told an oil and gas conference in Brussels.
The 2030 package would be "an open question after Paris," he added. "We should export cars and trucks and heavy goods. If we are too ambitious and others do not follow us we will have an export of production and more emissions outside the EU."