Australia will push back against Britain's bid to use the world's most exclusive leaders' summit to establish climate tariffs, arguing the sanctions would be a new form of "protectionism" designed to shield local industries from free trade.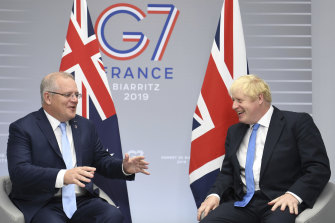 The issue could come to a head at the G7 summit in Britain in June, which Prime Minister Scott Morrison has been invited to attend, after British Prime Minister Boris Johnson indicated it would be a key priority at the meeting of the world's leading economies.
Mr Johnson has directed British government departments to come up with options for carbon border levies ahead of several major international summits, which he believes could act as a global emissions trading scheme as the world strives to hit net-zero emissions by 2050.
The British Prime Minister, riding a new wave of environmental momentum following the election of US President Joe Biden, has told aides the United Nations climate change conference in Glasgow in November is his number one initiative and "passion project" for the year.Advertisement
Carbon tariffs are a tax on energy-intensive imports that continue to trigger heated international debates. The European Union, frustrated by global inaction on emissions reduction, has advocated for them to be applied on imported goods – such as aluminium, steel and chemicals – that are produced in countries with weaker climate laws. It has already committed to a carbon border tax by 2023, which is likely to hit products made with Australian raw materials.
Mr Biden could also impose climate tariffs, with his "Buy American" economic plan endorsing a "carbon adjustment fee" at the border.
US President Joe Biden signed a raft of executive actions to combat climate change, including pausing new oil and gas leases on federal land and cutting fossil fuel subsidies, as he pursues clean energy policies he billed as a boon to the economy.
Senior Australian government sources, who are not authorised to speak publicly, confirmed it would resist Britain and the EU's efforts to encourage countries to adopt new taxes to capture imports from carbon-price-free jurisdictions such as Australia. They see the attempts by Britain and the EU to impose carbon tariffs as undermining the free trade deals Australia is currently negotiating with them.
The Morrison government will argue carbon tariffs are not aimed at combating climate change, but rather at economic objectives including protecting local industries such as British and European meat, cheese and wine.